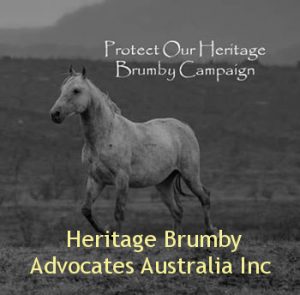 A great read from Justine Curatolo and ABA Member Group Heritage Brumby Advocates Australia
The True Spirit of the Brumby Loyal, kind and dependable
 #protectourheritagebrumbycampaign
Wednesday, May 20, 2020
Even though the Heritage Brumbies of the Eastern Alps in the High Country of Victoria have received a last minute stay of execution, there is a lot of work to do before they are safe.
Justine Curatolo from the Heritage Brumby Advocates Australia Inc (HBAA) has been flooded with stories from people who work with Brumbies, and their first-hand experience of these lovely horses, whose family ties are so strong that once they bond with their 'human' herd, they are dedicated to them for life.
Megan Jackson knows a bit about Brumbies, and the kind, loyal, quiet horses they can be…….
View/Download the full story with pics: