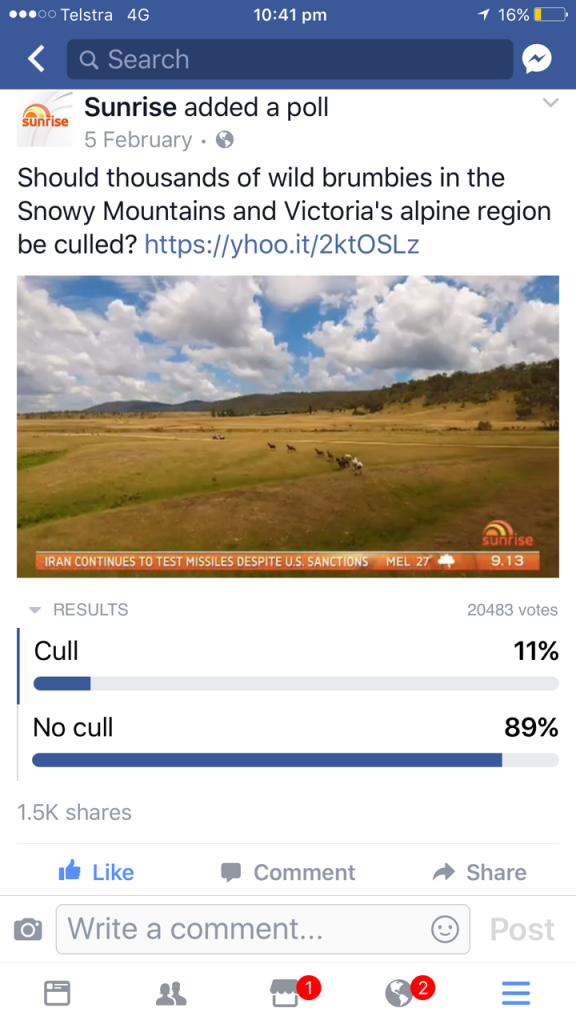 In 2019, concerned about the Victorian's push to eradicate Brumbies in the Alpine regions (and particularly the Bogong High Plains), ABA commissioned a survey of public perceptions of Victorian alpine area Brumbies.
The results were generally congruent with ABA goals and core values of retaining sustainably managed populations of wild horses in National Parks.
Most respondents valued Brumby heritage, were concerned about the environment but would support further research and the retention of small herds if there was little environmental impact.
Interestingly, survey report to Parks Victoria, while coming from a different angle, yielded similar results.
Market Research Conducted on Public Perceptions of Wild Horses
The Brumbies Report
– Prepared for Six O'clock Advisory on behalf of the Australian Brumby Alliance
A 5-question online study was conducted amongst members of a permission based panel. After interviewing, data was weighted to the latest population estimates sourced from the Australian Bureau of Statistics.
The study was conducted among 1,006 Victorians aged 18+Surveys were distributed throughout Victoria including both capital city and non-capital city areas as shown on the next page.
This study aimed to uncover people's knowledge of and opinions regarding the Brumbies population in the high plains and alpine regions of Victoria, Australia. Fieldwork commenced on 13thMay, and was completed on 18th May, 2019
Key top level results showed that:
4 in 5 (82%) Victorians believe that Brumbies are an important part of Australia's history to preserve.
The majority of Victorians are concerned about the potential environmental impact of wild Brumbies on the alpine regions (52%; cf. not concerned 48%)
A strong majority, more than 4 in 5 (84%), of Victorians would support further research into the impact of other wild animals, extreme weather events, or humans on the Bogong High Plains
9 in 10 (88%) of Victorians would support efforts to preserve a small herd of Brumbies living in the wild if there was little evidence of impact on their negative environmental impact on the Bogong High Plains.
ABA Lonergan Brumbies Survey FINAL 29-May-19 orig
MICROMEX report to Parks Victoria December 2012
PV Perceptions WH-MICROMEX Dec2012