ABA strongly believes it is vital to the environment, the taxpayer and the Brumbies that Government policy and decisions are based on balanced, methodical and rigorous investigation. We are therefore contributing funding to a research project on Alpine Brumbies conducted by the University of Southern Queensland.
Management of feral horses and in fact any potentially overabundant species not only requires measurement of negative impact but also positive impact. There can be unexpected adverse consequences of reduction in the number of feral horses (Dobbie et. al., 1993).
Management of brumbies in the Alpine National Park should aim to minimise any negative impact caused by feral horses and maximise any positive impact. To do this the relationship between impact and feral horse density must be determined (Dobbie et al. 1993); interestingly, this work has never been done in Australia.
The initial study report is being finalised, having experienced several unexpected delays from bushfire and Covid-19 restrictions.
The ABA is now developing the second stage of this study to develop a methodology to quantify appropriate Brumby population density levels suitable to specific area locations.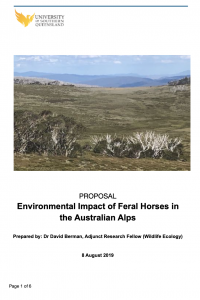 Draft Proposal
The University of Southern Queensland – Environmental Impact of Feral Horses in the Australian Alps