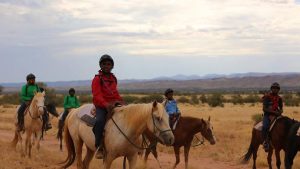 On April 24, in Alice Springs a group of 36 students from a remote Central Australian Community finished their 127 kilometre ride through the desert on wild brumbies to honour Indigenous soldiers….
….The trip is part of a community driven program, Stronger Communities for Children, which is designed to boost attendance at school.
….The Ntaria School students helped break in and train the wild Hermannsburg brumbies before the ride, many of them hope to continue their work with horses.
Read the full story from the NITV Website !