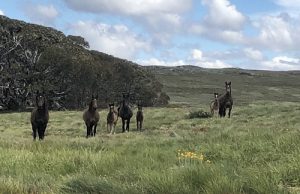 Despite Brumby groups offering to assist in a fertility control program, the Victorian Govt is determined to rid the Bogong High Plains area of the Australian Alps of a small population of wild horses.
The Victorian Brumby Association is organising a rally in Melbourne on Wed Feb 7. If you are in Melbourne and wish to join the march, below are the details.
10 am Wednesday 7 Feb
Fitzroy Gardens
Melbourne Victoria
Rally meet point is the Albert St end of the Fitzroy gardens. March starts promptly at 10.30am, please be there at 10am to organise groups and banners. Bring banners if you can – lets make sure everyone knows why we are marching!
More info:
https://www.facebook.com/events/331622250669617/?active_tab=about
http://www.victorianbrumbyassociation.org/alpine-national-park.html