This page contains a range of things regarding the fight to protect the Brumbies of the Bogong High Plains and Eastern Victorian Alps.  Scroll down to see all, included our posts.
If you want to got directly to current info on how to help, click on links in the left sidebar which will take you to the latest info.
We feel it is important to keep a record of all that has gone on.
---
THE VOICE OF THE PEOPLE
a message from Member Group the Victorian Brumby Association
The Injunction to prevent the Victorian Government from shooting Brumbies is currently being heard in the Supreme Court. A huge thank you to Phil Maguire and Rural Resistance for getting this off the ground!
This is the second time in eighteen months that The Victorian Government has been made answerable for the way it manages our Heritage Brumbies. The Australian Brumby Alliance case was only finalised a week ago. After huge effort from Jill Pickering and the whole ABA team, that one was lost. What this effort shows the Victorian government though, is that win lose or draw, this movement will continue and the voice is getting louder!
This can't be accomplished by one voice or one organisation – not even a hundred, but the thousands of us all raising our voices for the Brumbies WILL be heard.
To everyone out there who has shared a Facebook post, bought a sticker, written a letter, gone up to the High Country to stand for the Brumbies – this is what happens when we all stand, each in our own way!
Keeping our Brumbies right where they belong is our aim. Supporting them, through promoting them as a tourism drawcard, an amazing riding horse and asset to our wild spaces, sitting at the table with Parks Victoria when their management is discussed and BEING HEARD. That is our aim.
Why? Look at the photos below: The first shows VBA Millie, caught from Kosciuszko as an 11 year mare with her person Bridie, alongside them is VBA Trooper, caught from Kosciuszko as a yearling with his person Matilda and then VBA Beauty, caught from Bogong High Plains as a yearling with his person Emily. Each of them has intrinsic value and a right to live (even the children! ? ). The second photo shows what we see when we visit their wild cousins – healthy family groups of Brumbies in a healthy environment!! The unwritten rule of Ecology is 'do no harm'. These Brumbies support their environment, giving back to the country which nurtures their families. Sometimes, they need supportive management, but this should ALWAYS be done with full community consultation and humanely.
(view the original post at ( https://www.facebook.com/pg/VictorianBrumbyAssociation/posts/?ref=page_internal  )
---
A Message To All Brumby Supporters
Sunday 17 May 2020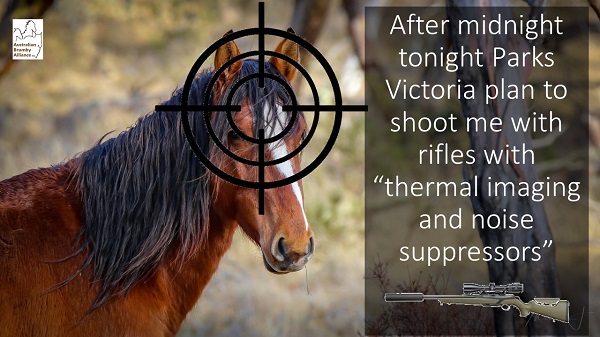 After midnight TONIGHT ground shooting of our Heritage Alpine Brumbies starts in the East Victorian Alps, and then – to where?
Parks Vic overturned their plan which states NO shooting will occur in the current plan and none until the public are consulted – their word means nothing.
Rumours are that Brumby supporters are off to the East Alps to object to Parks Vic's actions, if true, stay safe and thanks for this effort.
All Brumby supporters are contributing to the resistance, whether physically present or in spirit. We must support each other, keep focused on the very survival of our Heritage Brumbies, and stand in solidarity. Thank you all for the work you put into letter writing, emails, petitions, legal action, Brumby rehoming when Parks DO trap, complaints to the Ombudsman, Auditor General, States / Federal government – you name it – we have done it AS A COLLECTIVE. Keep up the pressure, keep sending emails/letters even if no replies, that's government – Brush off protests – until they become too overwhelming to ignore. United we stand, divided we fall.
– Jill Pickering, AB
---
2.   Help us fund balanced research
In July 2018, Park's Victoria introduced a 'Feral Horse Strategic Action Plan,' to eradicate the entire Bogong High Plains Brumby population and over half of the Eastern Alpine Brumbies. Most Brumbies will be killed. Parks Victoria provides no financial support to rehome brumbies, instead relying on volunteer rehomers to save the few Brumbies they have space for – from being slaughtered.
The ABA rejects this plan because it is based on flawed research that does not distinguish between positive and negative Brumby impacts in the region as well as impacts from Brumbies versus other wild animals, extreme weather events or even humans.
The ABA has committed to raising $200,000 to support USQ's vital research. You can help us by donating to the research fund or raising awareness of the issue within your networks. Please help us #BackOurBrumbies.
Please help the ABA fund critical research to fully understand the role of sustainable Brumbies in a healthy environment. Kill & kill again is inhumane a waste public resources. #BackOurBrumbies.
3.   Petition to Victorian Government to Retain Sustainable Heritage Alpine Brumby Populations
The Vict Govt is determined to rid the Bogong High Plains of a small population of wild horses.   Sign the petition (click link below)
Shame on the Andrews Govt!  Don't destroy our Heritage Alpine Brumbies !
Background Papers to the Petition:
More on how you can help HERE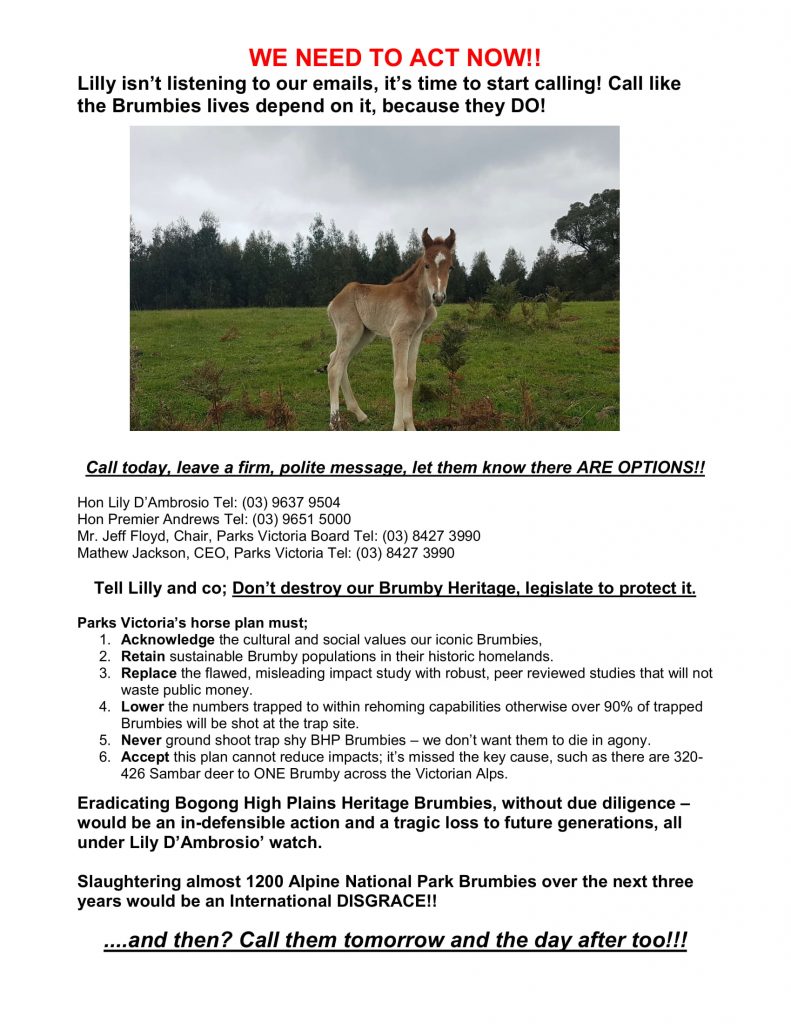 Alternatively, if you want to email:
Hon Lily D'Ambrosio E: lily.d'ambrosio@parliament.vic.gov.au – Tel: (03) 9637 9504
Hon Premier Andrews E: daniel.andrews@parliament.vic.gov.au – Tel: (03) 9651 5000
Mr. Jeff Floyd, Chair, Parks Victoria Board E: BoardandExecutiveSecretary@parks.vic.gov.au  03 -8427-3990
Mathew Jackson, CEO, Parks Victoria E: BoardandExecutiveSecretary@parks.vic.gov.au 03 -8427-3990
AND also contact you're local Member of Parliament.