2.   Help us fund balanced research
In July 2018, Park's Victoria introduced a 'Feral Horse Strategic Action Plan,' to eradicate the entire Bogong High Plains Brumby population and over half of the Eastern Alpine Brumbies. Most Brumbies will be killed. Parks Victoria provides no financial support to rehome brumbies, instead relying on volunteer rehomers to save the few Brumbies they have space for – from being slaughtered.
The ABA rejects this plan because it is based on flawed research that does not distinguish between positive and negative Brumby impacts in the region as well as impacts from Brumbies versus other wild animals, extreme weather events or even humans.
The ABA has committed to raising $200,000 to support USQ's vital research. You can help us by donating to the research fund or raising awareness of the issue within your networks. Please help us #BackOurBrumbies.
Please help the ABA fund critical research to fully understand the role of sustainable Brumbies in a healthy environment. Kill & kill again is inhumane a waste public resources. #BackOurBrumbies.
3.   Petition to Victorian Government to Retain Sustainable Heritage Alpine Brumby Populations
The Vict Govt is determined to rid the Bogong High Plains of a small population of wild horses.   Sign the petition (click link below)
Shame on the Andrews Govt!  Don't destroy our Heritage Alpine Brumbies !
Background Papers to the Petition:
More on how you can help HERE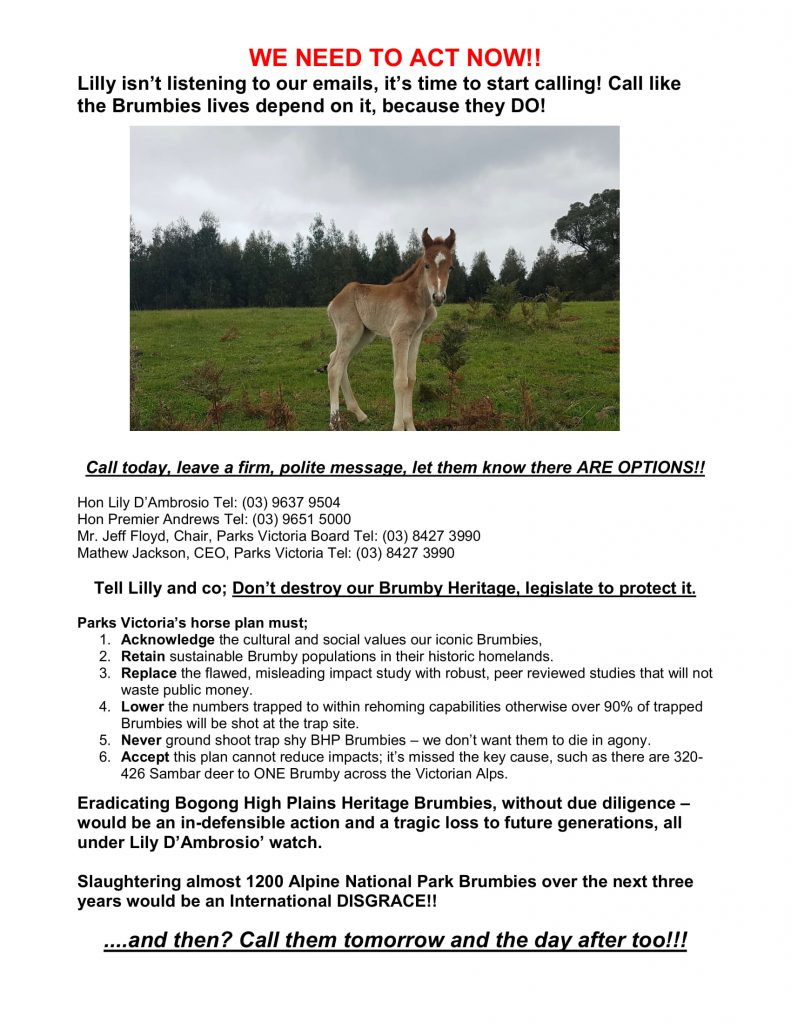 Alternatively, if you want to email:
Hon Lily D'Ambrosio E: lily.d'ambrosio@parliament.vic.gov.au – Tel: (03) 9637 9504
Hon Premier Andrews E: daniel.andrews@parliament.vic.gov.au – Tel: (03) 9651 5000
Mr. Jeff Floyd, Chair, Parks Victoria Board E: BoardandExecutiveSecretary@parks.vic.gov.au  03 -8427-3990
Mathew Jackson, CEO, Parks Victoria E: BoardandExecutiveSecretary@parks.vic.gov.au 03 -8427-3990
AND also contact you're local Member of Parliament.