Help us save the Victorian Alpine Brumbies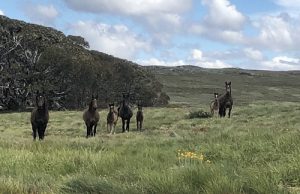 The ABA had taken legal action to stop the Victorian Government from removing Brumbies from the Bogong High Plains and the Alpine National Park.
Hours before an injunction hearing, ABA and Parks Victoria negotiated an interim agreement to reduce the number of horses removed.  But the longer term outcome will be decided at the main hearing in 2019.
YOU CAN HELP US!   More on how you can help HERE
---
The Australian Brumby Alliance Inc (ABA) was established in 2008 to help facilitate the efforts of like minded minded wild horse interest groups throughout Australia.   We do this by sharing information and expertise as well as providing a collective voice in regard to the humane management, welfare, preservation and promotion of what we consider to be National Treasures – Australian Brumbies.
We invite you to visit our website to learn more about Brumbies, the ABA and its member groups.
ABA is a member of the Wild Equus Network (WEN) and is a Registered Charity
ABN: 90784718191